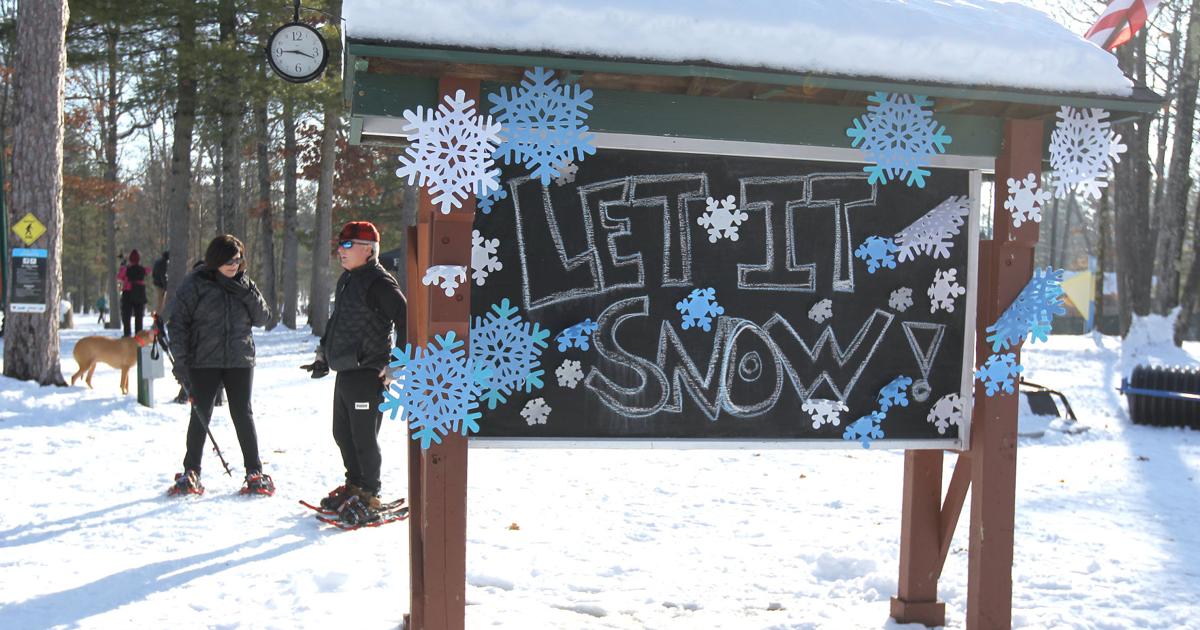 On the trail: Winter Trails Day returns to help people get through winter | News
Winter activities like cross-country skiing, snowshoeing and especially fat biking saw a dramatic increase in participation last winter, and this winter is expected to be no different.
It has also seen a lot of new people trying to get into the various activities available for the first time or just going out occasionally during the winter.
Living in Northern Michigan, it's important to embrace winter by figuring out how to enjoy it.
It's much easier to commit to going out in the winter when you're looking forward to the experience.
One way is to at least somewhat master cross-country skis, snowshoes, or a fat-tire bike. It makes a big difference, in my opinion, when you're eager to hit a trail instead of half-committing.
The good news is that National Winter Trails Day, organized by TART, is back this winter and takes place Saturday from 10:30 a.m. to 2 p.m. at the Timber Ridge Resort.
It offers a simple option for those who wanted to make winter quiet
TERRELL
Winter Trails Day is back
from page 1b
sports a try, or maybe pick up some tips to improve their technique making the experience more enjoyable.
Learn the basics of going up and down small hills, how to fall and get back up.
Hundreds of new participants have been introduced to the liberating feeling of getting out on a pair of skis or snowshoes in winter thanks to this annual event.
TART partners with Record-Eagle, Vasa Ski Club, Brick Wheels, Suttons Bay Bikes, Northern Michigan Mountain Bike Association and Timber Ridge to host the event, which offers free trail access, lessons introduction to skiing, demonstrations of fat-tire bicycles and guided snowshoe hikes.
The national day is more than a quarter century old. TART had been celebrating for more than a decade when last year's event was canceled due to COVID-19 concerns and state guidelines.
This is an event that had attracted more than 100 people in recent years, especially families wishing to try one or more activities.
Cross-country skiing and snowshoeing are family winter sports, according to Brian Beauchamp, director of communications for TART, when we talked about them before.
"We have found that the event attracts a wide range of attendees who can sometimes span three generations. It's something grandparents can enjoy with their grandkids," he said, noting that sports are low impact, which is a great option for an older generation.
Free rental equipment, which will be limited, will be available on a first-come, first-served basis beginning at 10:30 a.m. A driver's license will be required to verify this. As equipment is limited, they ask you to bring your own if you have it.
Complimentary cookies and cocoa are served in the lodge after your day on the trails.
They also require you to register in advance and on the day of your attendance so they can track attendee numbers on the TART website, traversetrails.org.
"We are expecting a big event this year after missing last year's event," said Janna Goethel, TART's special events coordinator, when we got in touch recently. "With the majority of the event taking place outdoors, we are confident it will be a safe day for winter trail enthusiasts.
Volunteers will wear masks indoors for registration, which we know we will have several that day. But the decision to wear a mask indoors will be up to the individual attendees. »
Winter trails offer a completely different outdoor experience than a once familiar landscape.
Take time to enjoy the experience and beauty of our winter surroundings. Winter hiking is also an option when there is a lack of snow, which we seem to be experiencing lately.
There are many options for getting out and enjoying winter activities. We weren't supposed to hibernate.