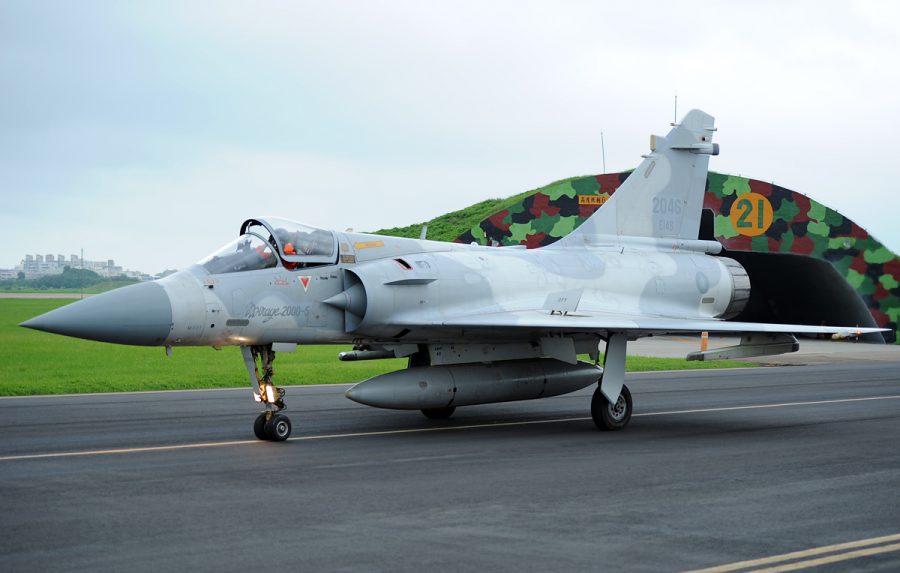 Mirage-2000 crash – Amid high-voltage tensions with China, French-origin plane from Taiwan crashes, pilot safely ejects
Amid ongoing tensions between China and Taiwan, a Taiwanese Mirage-2000 fighter jet crashed as the pilot ejected safely, according to the Taiwan Air Force.
The Taiwanese fighter jet disappeared from radar screens at 11:26 a.m., after taking off from Taitung East Air Base in Taiwan for routine training earlier in the day, the Air Force said. .
Its only pilot, Lt. Col. Huang Chung-kai, was able to eject safely, the Air Force said, without providing further details.
The presidential office said the French-built aircraft was on a training mission from Chihhang Air Base in Taitung and the pilot was safely picked up after parachuting.
Earlier on January 11, a newly modified Taiwanese F-16V fighter jet went missing while on a training mission over the sea. According to the Taiwan Air Force, the F-16V fighter lost contact with the Southwest Taiwan Air Base.
China, Russia Flexing Muscles?
The United States imposed a series of sanctions on Moscow in response to the Russian invasion of Ukraine. In the absence of any official commitment to protect Kiev, Washington has chosen to act on the sidelines.
Besides Russia, China is another major adversary of the United States and is vying for global dominance to counter what is seen as American hegemony. Tensions have risen in the Indo-Pacific region, with the United States forming alliances such as QUAD and AUKUS in an effort to contain China diplomatically and militarily.
This speaks to the importance the United States attaches to the region, home to some of the world's busiest shipping channels and a number of developing economies with vibrant markets. It does, however, contain some major hotspots and things get tense there from time to time.
America's challenges in Asia
The China-Taiwan dispute is one of the major geopolitical issues in Asia, which has inevitably drawn the United States and Japan into its fold. Taiwan's Defense Ministry said in a report that it plans to more than double its annual missile production capacity to nearly 500 this year as it bolsters its combat strength in the face of what it perceives to be the growing military threat from China.
This development comes in the context of a visit by an American delegation to Taiwan which was unequivocally denounced by China. As the world's attention focuses on Russia's invasion of Ukraine, a delegation of former US officials has expressed support for another democracy under threat from authoritarian force, CNN reported.
A warm welcome to #WE delegation headed by former Chairman of the Joint Chiefs of Staff Adm. Mullen. #Taiwan is committed to working with the #WE and other like-minded partners to maintain peace and stability in the region. pic.twitter.com/3j2fFgP2La

— 蔡英文 Tsai Ing-wen (@iingwen) March 1, 2022
Analysts have drawn parallels between the Russian-Ukrainian war and the China-Taiwanese dispute. The self-governing island, located just 200 kilometers off China's southeast coast, is claimed by Beijing as its territory. China's ruling Communist Party insists on the "reunification" of the island with the mainland, if necessary, by force.
The relationship between Taipei and Beijing is at an all-time low. China's military has sent a record number of jets into Taiwan's airspace in recent months, while diplomats and state media have warned of an invasion unless the island follows suit. Beijing's position.
In light of security concerns related to Russia's invasion of Ukraine, the island's leader, Tsai Ing-wen, said her military must maintain a high level of vigilance and monitor activities in the Taiwan Strait.
The United States has helped provide military support to Taiwan. In November 2021, Tsai ordered 64 advanced F-16V 'Viper' fighter jets and last month Washington authorized a potential $100 million sale of equipment and services to Taiwan to 'maintain, improve and support'. its Patriot missile defense system.
China has also accused the United States of training Taiwanese troops and has always maintained that its support for Taipei amounts to a violation of the "One China" policy.
However, despite America's arms supply to Taiwan, it has never promised direct military assistance to repel any Chinese military action, in the event of an armed conflict.
Apart from this, the India-China border has attracted considerable global attention. And Washington, being a strategic partner of New Delhi, has an interest in the region.
Recently, a senior US official, Donald Lu, told senators that China was provoking India at every turn, just as it was with the United States, and that Washington was determined to accelerate progress in capacity building. defense of India to counter Chinese provocations, The Times of India reported.
The conflict that erupted in 2020 also saw the previous Trump administration issue statements hinting at its willingness to mediate between India and China. The relationship between the United States and India has since come a long way, with both being engaged in the QUAD group, which China sees as an exclusive clique of a few states.
The QUAD (Quadrilateral Security Dialogue) made up of the United States, Japan, Australia and India, is mainly aimed at countering Chinese aggression in the region.
The United States has become one of India's biggest arms suppliers, with $22 billion worth of planes, helicopters and missiles delivered. Deals worth around $10 billion are either being negotiated or nearing completion, as previously reported by the EurAsian Times.
Military purchases from the United States have recently emerged as one of many key reasons for India's ability to maintain a strong stance in the LAC dispute. American-made Chinook heavy-lift helicopters and Apache helicopters have been widely deployed in the Ladakh sector.
The C-130J Super Hercules transport aircraft, which was also purchased from the United States, has played a crucial role in transporting troops and supplies to LAC, where deployment has only intensified these last years.
Recently, Boeing delivered the 12th P-8I Poseidon maritime patrol aircraft to India. It is the fourth of four additional aircraft provided under the Department of Defense option contract signed in 2016. India is the second largest user of the P-8 Poseidon outside the United States.
India is also finalizing its purchase of MQ-9 Reaper drones from the United States, as it seeks to boost its surveillance capabilities in the IOR where China seeks to boost its presence.
However, despite the military and diplomatic engagement between India and the United States, there is very little, if any, chance that the latter will intervene in any conflict between India and China. India maintains strategic autonomy and has traditionally toed the line of bilateral negotiations and resisted any outside interference in its affairs.
The political elites in India realize that the United States, despite their help, is far away and China is just across the border. It also bears the lessons of the post-1962 debacle when its military modernization was not completed by the United States as New Delhi had wished. As a result, India leaned towards the Soviet Union, which became one of the country's main arms suppliers.
India's ongoing tension with Pakistan, both of which have a working military relationship with the United States, continues to draw global attention. Pakistan is China's closest ally and has received state-of-the-art equipment to counter India's power.
Pakistan is also a key partner for the United States, particularly in the negotiation process with the Taliban that ultimately led to the withdrawal of American troops from Afghanistan, which the United States desperately sought.
After India carried out Balakot strikes inside Pakistan to eliminate terrorist launch pads in 2019, a dogfight ensued between the two sides' fighter jets.
While India used its MiG-21 Bisons, Pakistan penetrated Indian airspace with American F-16 fighters. While India claimed to have shot down an F-16, Pakistan and the United States would soon deny these claims.
Furthermore, it becomes imperative for the United States not to relinquish its influence over Pakistan given Islamabad's tilt towards America's arch-enemy, China, and its growing partnership with Russia. Prime Minister Imran Khan recently visited Moscow just before the launch of military operations against Ukraine.
🇷🇺🇵🇰 During his working visit to Russia, Pakistani Prime Minister @ImranKhanPTI attended a wreath laying ceremony at the Tomb of the Unknown Soldier near the Kremlin wall in Moscow.#RussiaPakistan pic.twitter.com/HavdSespai

— MFA Russia 🇷🇺 (@mfa_russia) February 24, 2022
India, on the other hand, occupies a very strategic place in American Indo-Pacific policy. It would be against Washington's interest to take sides if a conflict were to break out between India and Pakistan over the issue of Kashmir.
On March 1, the Pakistan Navy claimed to have intercepted and tracked an Indian Kalvari-class submarine in its waters. The Pakistan Army's public relations wing said it was the "fourth detection in five years".
#PakistanMarine The anti-submarine warfare unit intercepted and tracked the last Indian Kalvari-class submarine on 1 March.
The recent incident being the fourth detection in the past 5 years reflects the skill and determination of the Pakistan Navy in defending Pakistan's maritime borders. pic.twitter.com/6sn1WvpUVj

— DG ISPR (@OfficialDGISPR) March 3, 2022
Even though India and Pakistan currently maintain a ceasefire along their de facto border in Kashmir, tensions are far from over. The recent launch of a cruise missile on Pakistan again raised some concerns.
That said, the United States is unlikely to intervene directly in any of these conflicts in Asia. Instead, Washington is expected to take the path of diplomacy and deterrence, as it demonstrated in Ukraine. It is in the interests of the United States not to engage in conflicts that do not directly endanger its national security or interests.