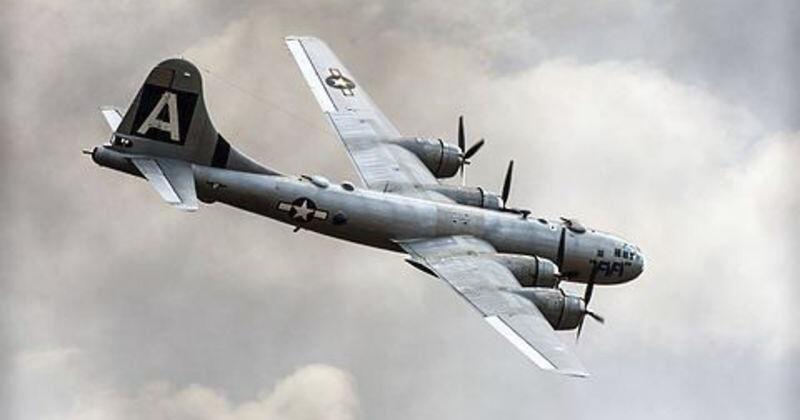 Historic planes arrive at Terre Haute | New
Four historic World War II aircraft will soon land at Terre Haute Regional Airport July 7-10.
This is part of a four-day tour of the Commemorative Air Force (CAF) Air Power History Tour. CAF, formerly known as the Confederate Air Force, is a Texas-based non-profit organization dedicated to preserving and displaying historic aircraft at air shows, primarily in the United States and Canada. .
The roar of the radial engines of two of WWII's rarest bombers – the B-29 Superfortress and the B-24 Liberator – will be heard in the skies of Terre Haute, as rides can be purchased for flights on these aircraft, as well as the P-51 Mustang and the T-6 Texan.
Planes can also be seen and boarded when not flying.
"Journeys on the planes are special, but when the planes aren't flying, we open them up for all-day cockpit tours. People can board the planes, walk through the bomb bays, and climb into the cockpit area and get a real feel for what those planes looked like," said CAF spokesman Jacques Robitaille.
"We like to say that we're a traveling museum in the sense that we bring these planes to people and we allow people to get up close and personal with them, to see them and to see them start and take off. It's a unique experience…and to get a real sense of how powerful these planes are," said Robitaille.
The aircraft will be staged at Hoosier Aviation located at Terre Haute Airport at 581 S. Airport St.
When not flying for rides, the aircraft can be seen at the airport from 9 a.m. to 5 p.m. each day. To view the aircraft, the cost is $20 for adults; $10 for children 11 to 17 and free for children 10 and under.
The T-6 and PT-13 will provide routes for all four days. The P-51 will offer trips starting at 1 p.m. on July 8. The B-29 will fly July 9 and 10 at 9 a.m. and 10:30 a.m.
For the B-29, dubbed FiFi, the 10:30 a.m. flight is already sold out, according to the Air Power Tour, but the 9 a.m. flight still has tickets available. For the B-24, dubbed Diamond Lil, both July 9 flights are full. However, the July 10 fights are still available.
Trips can be booked in advance at www.airpowersquadron.org/terrehaute-in.
Tours of the B-29 and B-24 cockpits will be available daily from 9 a.m., except Saturday and Sunday when they begin at noon.
About the plane:
• The B-29 Superfortress "Fifi", the largest and most technically advanced aircraft of its time, was first flown in 1942. It began active service with the US Army Air Corp in 1944 , and is best known as the aircraft whose missions over Japan helped end World War II. The B-29 also saw service in the Korean War in the early 1950s and was a staple of the US Air Force until 1960. 'Fifi', one of only two B-29s in the world still in flight, was acquired by the CAF in 1971. The aircraft began to run in 1974.
• The B-24 Liberator "Diamond Lil" was the most produced American warplane of World War II with more than 18,400 aircraft rolling off the assembly lines across the country. Most were made at Ford's giant Willow Run assembly plant in Detroit. Diamond Lil was one of the first B-24s produced and is one of only two B-24s in the world still in flight.
• The P-51D Mustang is one of the most recognizable and beloved aircraft in aviation history. With its speed, range and clean lines, the P-51 became a favorite of Allied fighter pilots and bomber crews. The long-range fighter had a range of 1,300 miles that allowed it to accompany bombers to their targets and back, and it was faster and more maneuverable than its German and Japanese opponents.
• The T-6 Texan, known as the "Pilotmaker", was an advanced flight trainer that introduced new pilots to a complex aircraft with a top speed of over 200 miles per hour, to prepare them for the warbirds that would fly into combat in World War II. The T-6 was designed for an instructor and a student, and had an enclosed cockpit.
The CAF is a fleet of more than 170 World War II aircraft assigned to unit locations across the United States and is supported by 12,000 volunteer members. Almost all aircraft are maintained in flying condition, allowing people to experience the sight and sound of vintage military aircraft in flight firsthand.