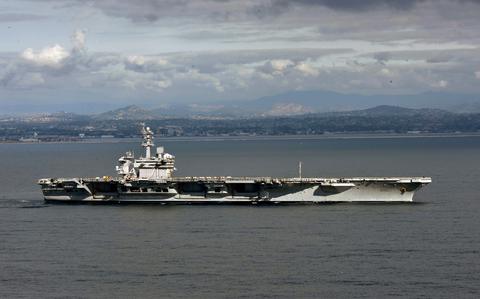 100 years of aircraft carriers: US Senate resolution honors Navy 'cornerstone'
(Tribune News Service) – Aircraft carriers were hailed in the Senate on Thursday, as Virginia Senators Tim Kaine and Mark Warner introduced a resolution to mark the centennial of these Navy stalwarts.
It "recognizes that in a time of great competition the world has not seen in over 30 years, aircraft carriers will continue to be an absolutely vital strategic platform…to ensure security and stability around the world, today and for a long time". the future."
Aircraft carriers, according to the resolution, are the "cornerstone" of the Navy.
In recent years, there have been occasional rumors around Washington about whether the Navy needs so many nuclear-powered aircraft carriers built at Newport News Shipbuilding — even, at one point, a short-lived suggestion from the Obama administration not to undertake the multi-billion dollar project. the refueling and overhaul of the USS George Washington which the yard is nearing completion. This would have in effect reduced the size of the aircraft carrier fleet from 11 to 10.
In 2021, a Pentagon Future Naval Force Study said it might be worth considering reducing the fleet to just eight, while replacing up to six light carriers.
The Virginia senators' resolution noted that workers at the Norfolk Naval Shipyard built the Navy's first aircraft carrier, the USS Langley, by converting a Navy coal-fired ship. The Langley was commissioned a century ago.
Now, the senators noted, more than 13,100 people and 2,450 companies in 48 states and more than 364 congressional districts help build and maintain the carriers.
©2022 Daily Press.
Go to dailypress.com.
Distributed by Tribune Content Agency, LLC.